Home of Composite Squadron 20/VC-20

WWII Composite Squadron of Wildcats and Avengers

Awards and Citations and Statistics

VC-20 distinguished itself  well during its eight months of combat duty in the Pacific.  It was the Battle of Leyte Gulf on 25 October 1944 that the squadron earned the majority of their medals.  The Battle of Leyte Gulf has been noted by historians as the greatest naval battle ever fought. It pitted a small undersized group of escort carriers and DDs and DEs against a much superior Japanese Central force.  The courage and determination of the men of VC-20 and their counterparts in the other squadrons, made Adm Kurita believe he had been detected by Adm Hulsey's Seventh Fleet and he turned and ran when in fact he could have succeeded and would have dealt our troops landing a Leyte a tough blow.  For their heroism, they received the following: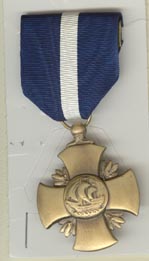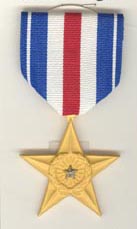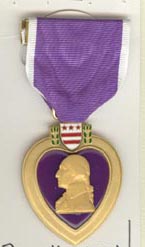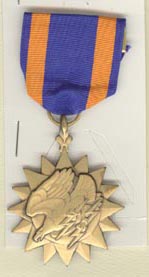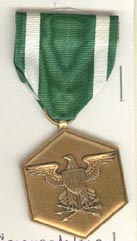 Navy Cross  5                             Silver Star  5

Purple Heart  2                           Distinguished Flying Cross  20

Air Medal  20

                       Commendation Medal  5
Composite Squadron 20 earned the right to wear three combat stars for their engagements during the Western Caroline Island Operation which earned one bronze star. For the Leyte Operations which earned one bronze star and the Luzon Operation which earned a third bronze star.  Plus the Philippine Liberation ribbon with two bronze stars.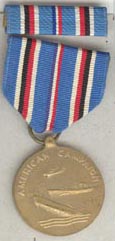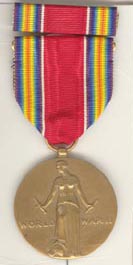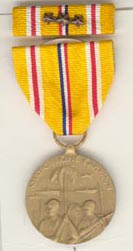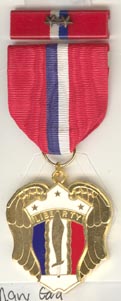 American Campaign                       Asiatic Campaign                       American Freedom

                                                          3 Stars

USS Kadashan Bay CVE-76 & VC-20

Statistics

Damage to the Enemy





















20 Aircraft                                  3 fuel dumps                  4 Auto anti-aircraft positions

7 Artillery emplacements          15 Trucks                      11 Machine Gun Positions

1 Heavy Anti-Aricraft Position     1 Oil Barge                    3 Boats & Several Buildings

3 Destroyers                            2 Aircraft

2  Battleships                          4 Aircraft                     1 Barge              13 Pillboxes  

3  Heavy Cruisers                    2 Aircraft on ground      1 Dredger              6 Trucks

1  Light Cruiser                      11 boats 35'-50'

  2  Destroyers                        Troop filled trenches heavily straffed 

An unknown amount of damage was done in wooded areas where bivouacs, supply dumps, pillboxes and other installations were reported to be located.

VC-20 Losses During Combat Operations

Personnel Lost--NONE                                           Personnel Wounded--Three

Aircraft lost to enemy action                                   3 FM-2s

Other Aircraft damaged by enemy                          10

Total by Enemy                            13

Operational Losses-non combat                              7

Total VC-20 Personnel Losses

One pilot, Hans Jensen, Ponam Is. 27 Nov. 1944 on takeoff.

One Aircrewman, John Martin, 76 miles SE of Palau Is. during carrier landing 21 Dec.1944.

Landing Statistics aboard CVE-76

Total Landings on CVE-76, 2,299 thru early January 1945 actual number exceeded 3,000

Number of times the barrier was hit, 21

Average wind across deck during landings, 25.8 Knots

Lowest wind used for landings, 17 Knots on 23 Sept. 1944

Highest wind used for landings, 41 Knots on 25 Oct. 1944

Shortest landing intervals: VT  15 seconds  VF 12 seconds

This page was last updated on: April 21, 2010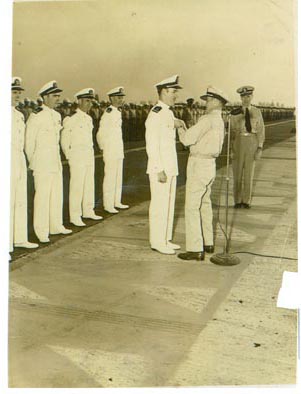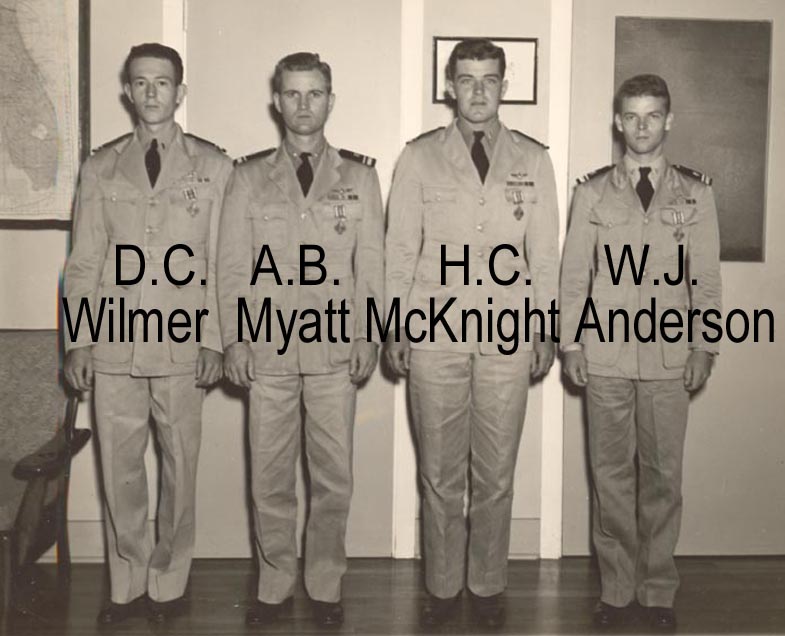 DFC Ceremony, OPALIKA, FL 

5 May 1944

DFC awarded to VC-20 pilots.  Location unknown

CVE-76                            VC-20

Photo from Mary Myatt Bowman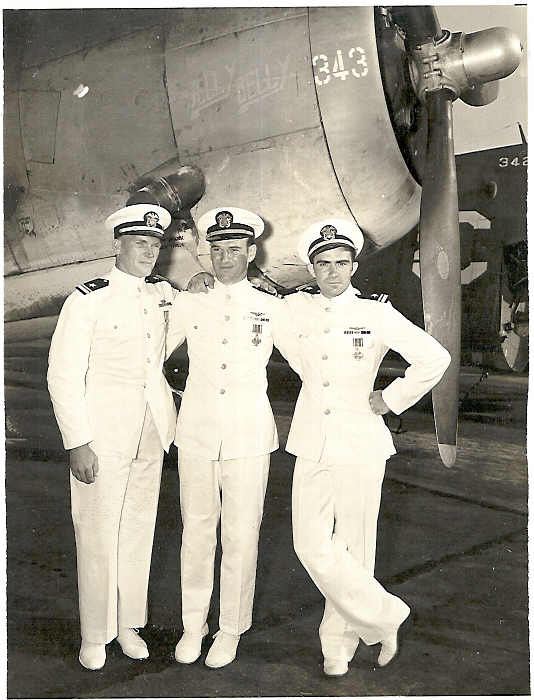 S K Topliss  Charles Roth and Don Rogers after receiving their DFC awards. They are standing beside JELLY BELLY.

Topliss happen to find her on the flight line. JELLY BELLY is the TBM he flew on 25 OCT 1944.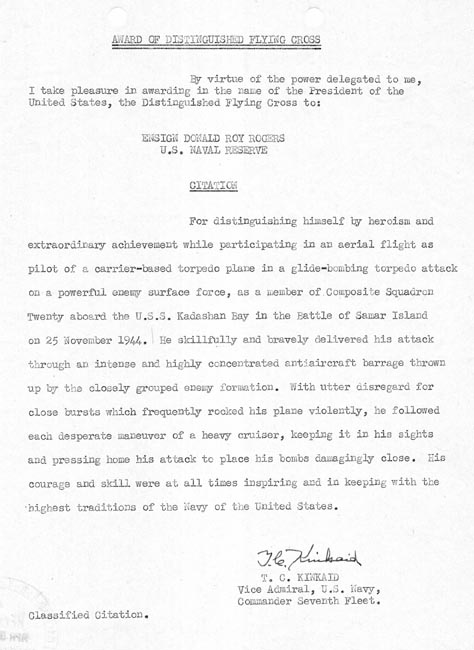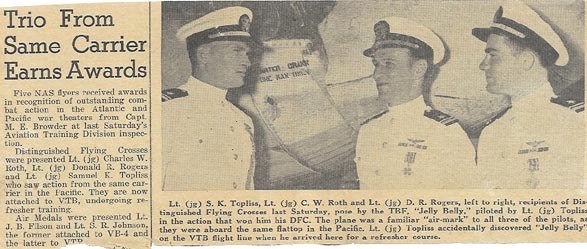 Don Roger's Citation has a small error

in it. It should read 25 OCT 1944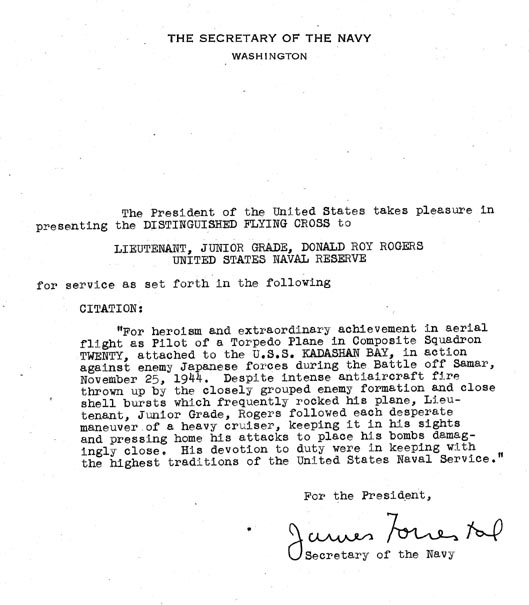 Photos, citations, poems and news article are from Judy Rogers Zito.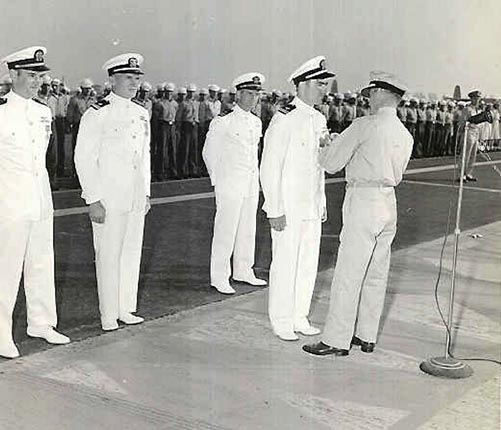 Photo from Judy Rogers Zito

Capt. M E Browder presenting

medals.

Officers 1 and 2 are believed to be Lt(s)

J B Folson and S B Johnson who are

receiving Air Medals.

POEMS by Don "DOC" ROGERS

We used to sit in easy chairs

And honk about their hardess.

Tysdal wasn't bothered thus,

For he was far from lard-less.

But now we on sit parachutes hard,

And wish that they were strap-less.

We sit so hard and sit so long,

That we are nearly crap-less.

The sun beats down from up above,

And we are getting tann-ny.

While down below we have, my dear,

A sore and aching fanny.

WHY?

From o'ver the ocean broad and deep,

To hear my thoughts and mar my sleep,

There comes a sound and many more,

Oh, why does Tysdal have to snore?

Oh, why, oh why this sound so loud,

That tears asunder sleep's bright cloud.

That reaps and rends my dreams and his.

Should have to come from anixous Tys.

These sounds that spoil nocturnal bliss,

I'm sure his wifey dear will miss.

For me I'm prone to want my rest,

But if this keeps up I'll never get any

*!@!* sleep!

Philippine Liberation Medal

2 stars

Philippine Presidential Unit Citation Ribbon only.