Home of Composite Squadron 20/VC-20

WWII Composite Squadron of Wildcats and Avengers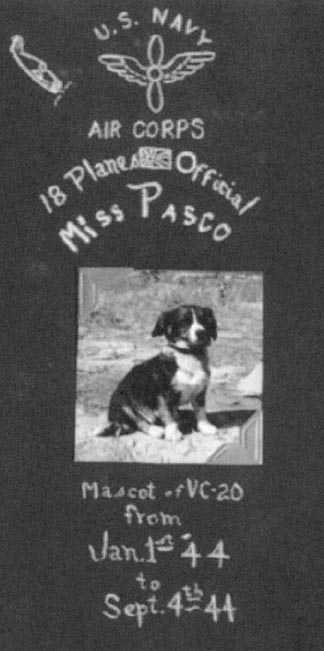 Pasco was made the mascot while the squadron was training at NAS Pasco. However, she was no lover of loud noises...i.e. 40mm guns. At one of the island stops, she went AWOL and was never found or seen again!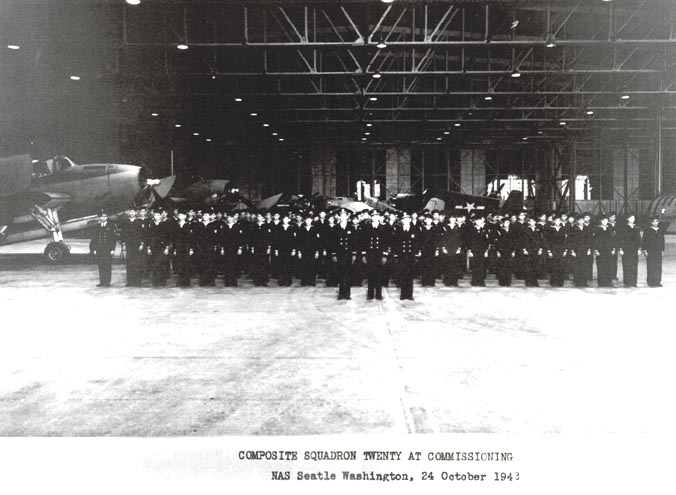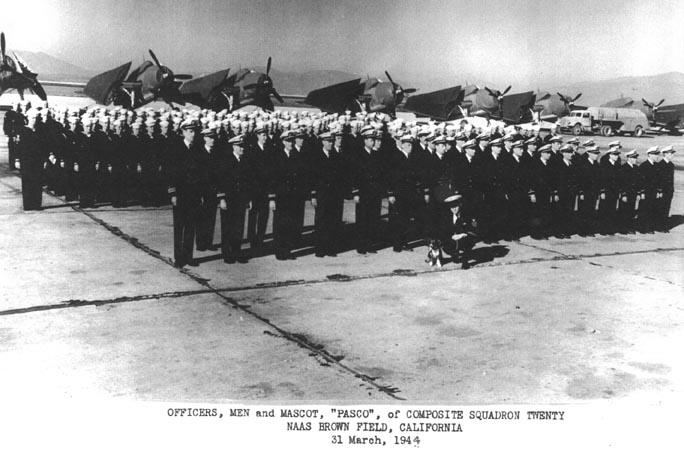 Along the Isle front to back:

MacKnight, Moore, Gnuse, Eash, and Wimer

Along the bulkhead front to back:

Carr, Hamm (top of head),Peoples, Duncan, and Elshire

                                                                       Picture from Doy Duncan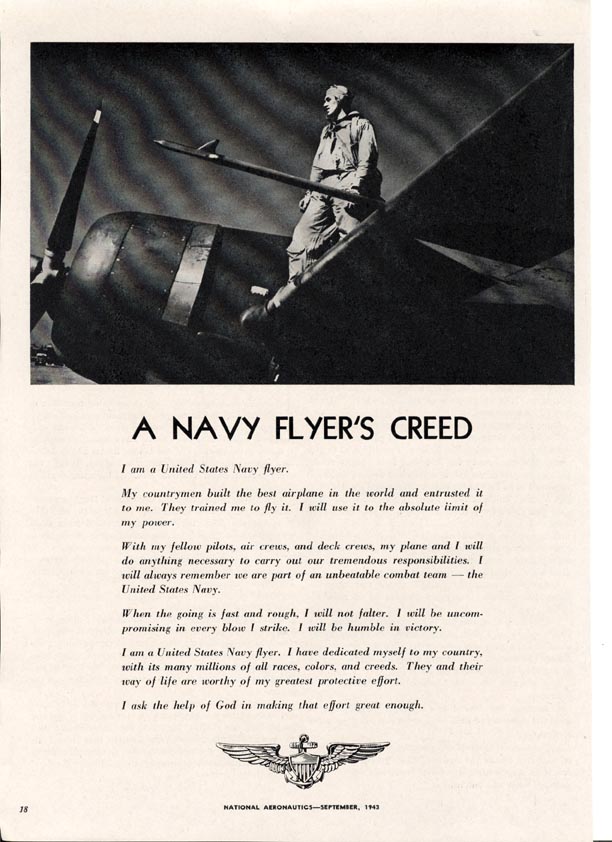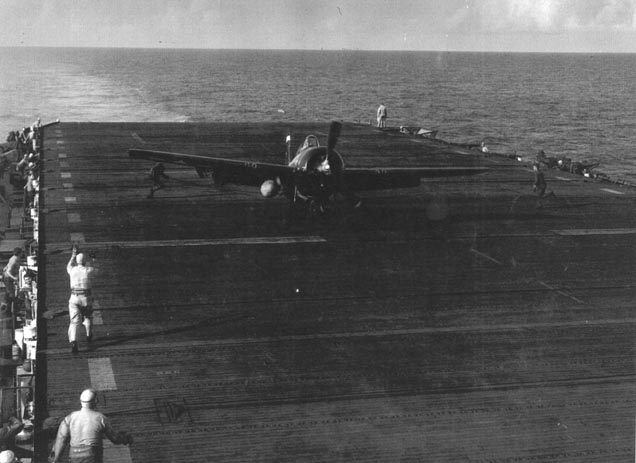 VC-20 aircraft landing with its left wing shot up!

this maybe "Charlie" 7 landing.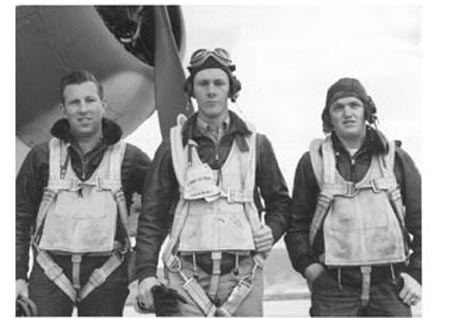 Jed Durand      ENS  R G Altman    Don Vaughn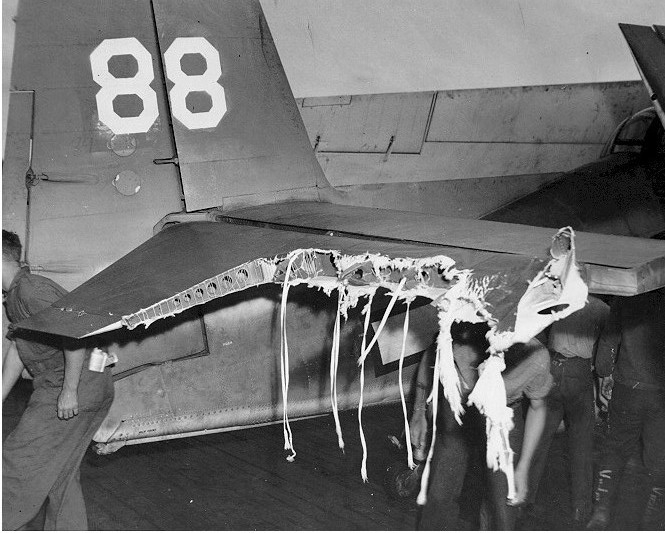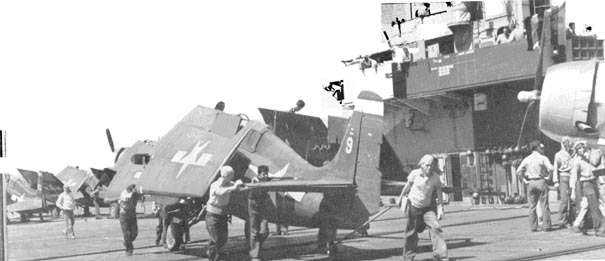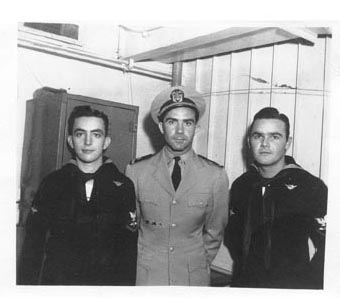 Ed Henderson   Don Rogers      Pete Heflin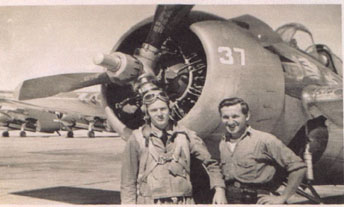 H H Peoples                   Guy Lamond

                       Brown's Field


This stencil is from Jack Adolf. It is the same one he painted every plane and the ship's Island with. It has been reduced in size for the website.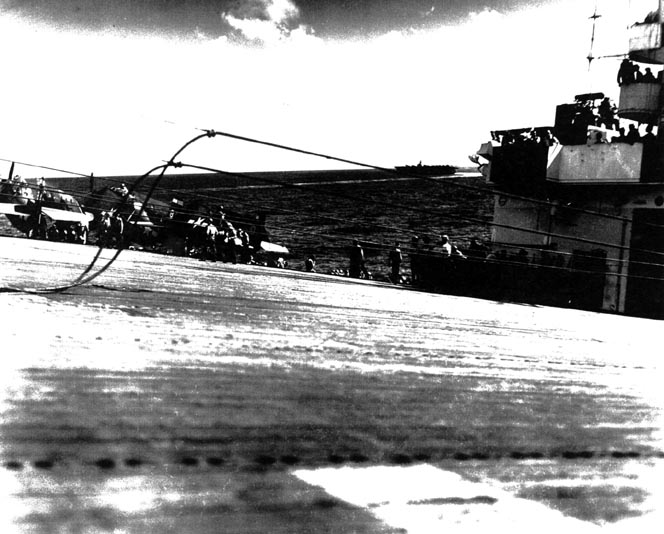 CVE-76 is turning into the wind to receive planes. Note the barriers are up.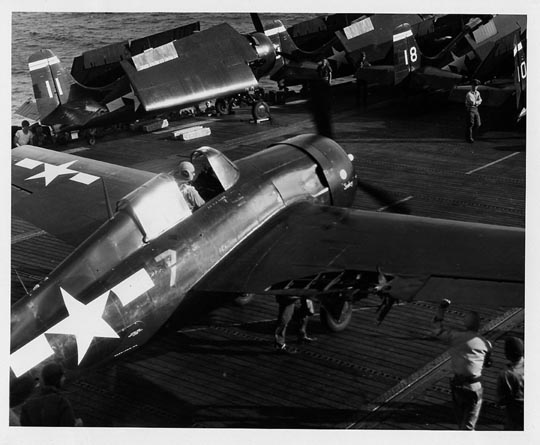 Note the wing damage to L J Carr's plane "Charlie 7"

                                                                   "Smokey"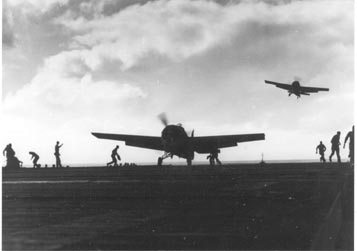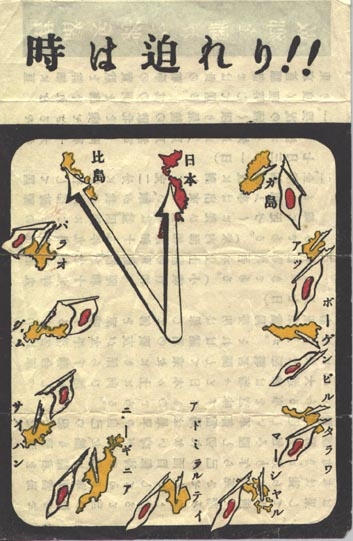 Leaflet dropped by the squadron on

enemy held Islands. The top reads

"Time is Running Out" Each number on

the clock represents an Island that

has fallen. 12 represents Japan!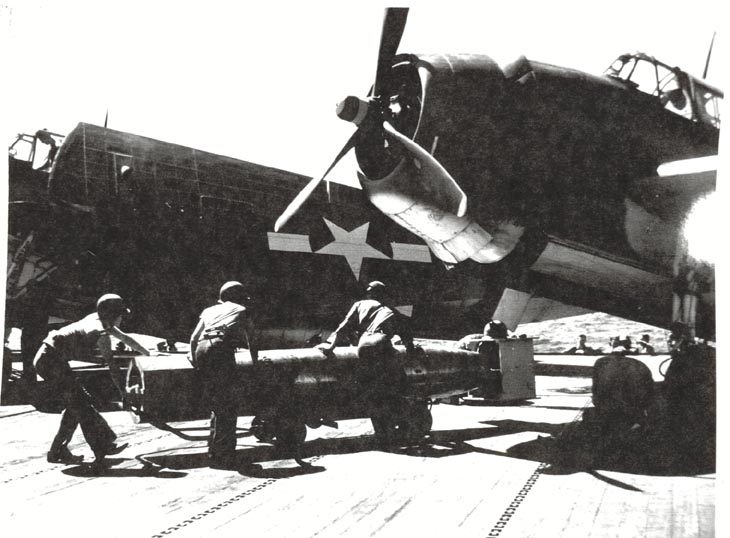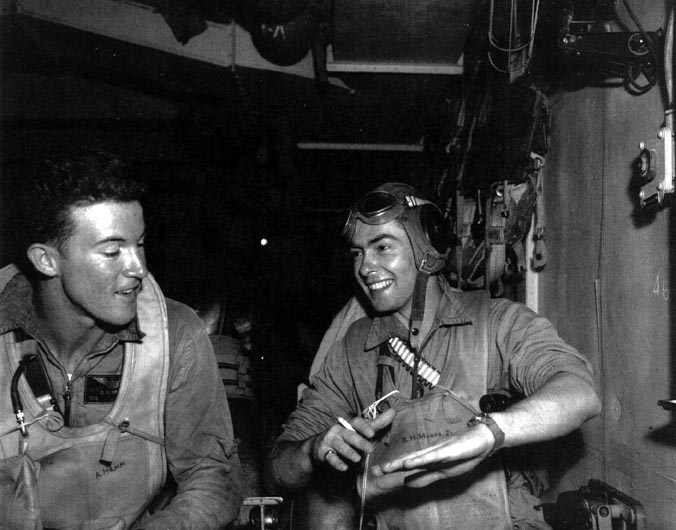 H H Peoples 

                                                 Salty Moore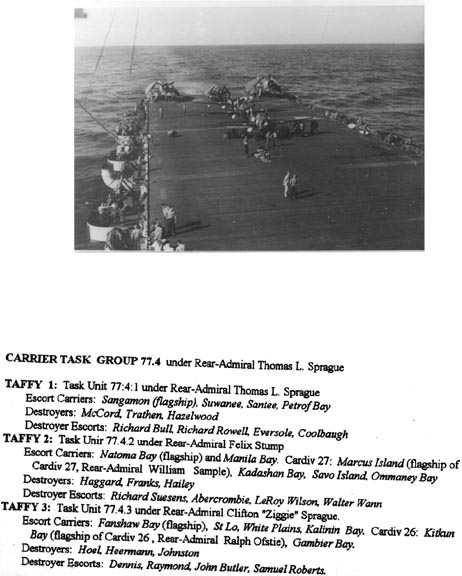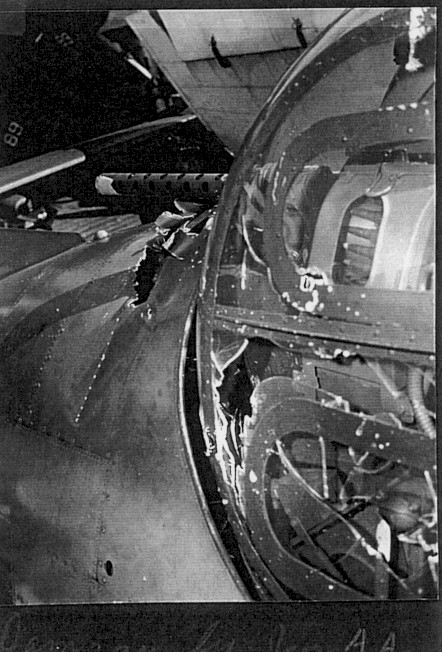 "Charlie 92" W. Kruck's Plane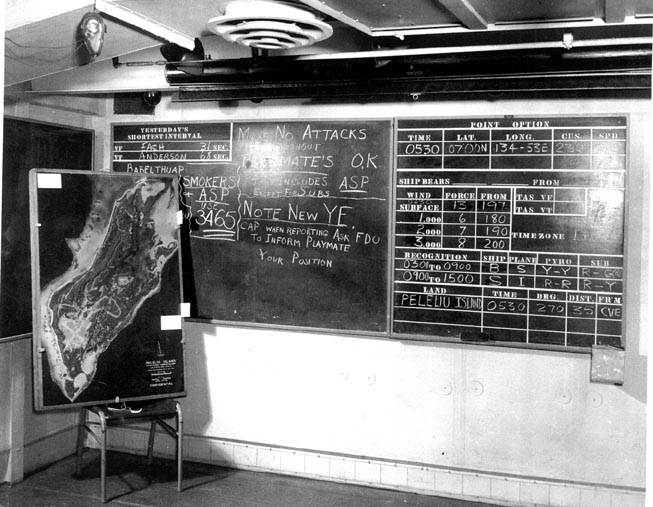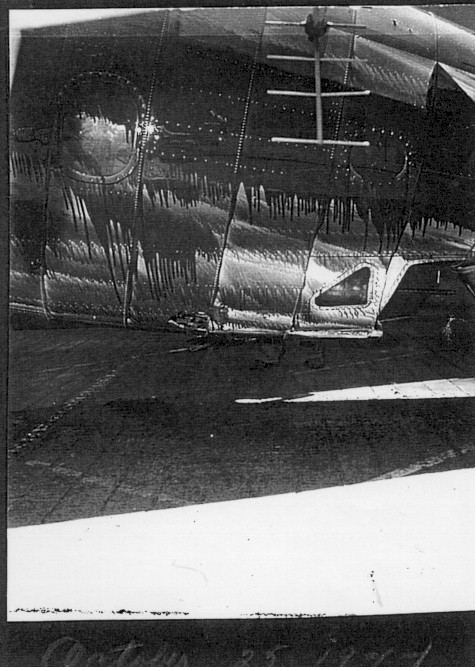 Oil  covered TBM  AA damage to area below radioman this is

LCDR Dale's aircaft.  His radioman, Steve Walker,  suffered injuries when enemy fire came through the bottom.

Steve Walker, 25 Oct. 1944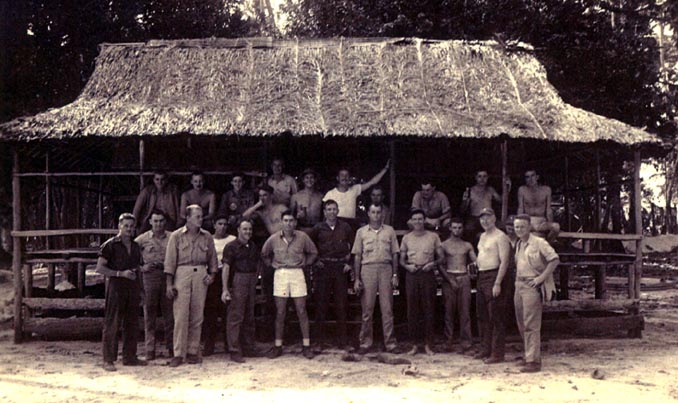 VC pilots on Ponam Island

Front row: Myatt, Lazear,Topliss, Howe (signal officer), Baringer,Moore, Peoples,Adair, Williams,Anderson,Carr,Jensen.

Back row: Rutherford,Dauphin?,Wimer,Roth,Elshire,Gnuse,Kruck,Coulthard, ?,Keenan, ?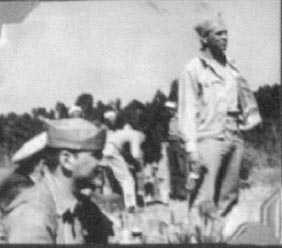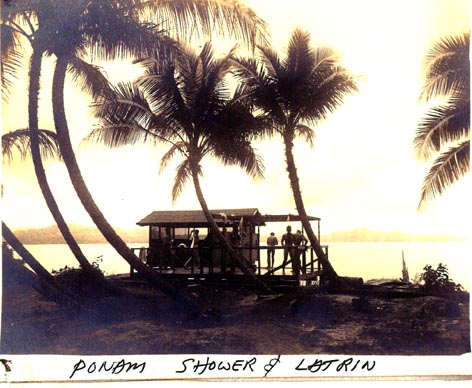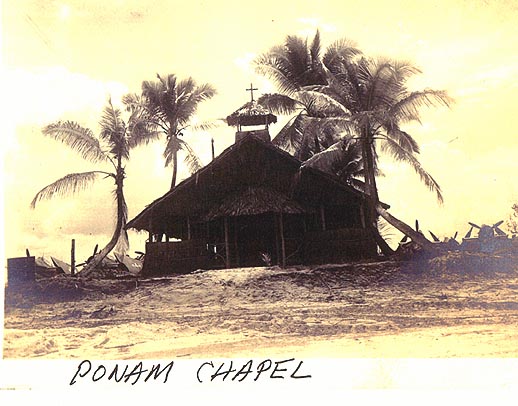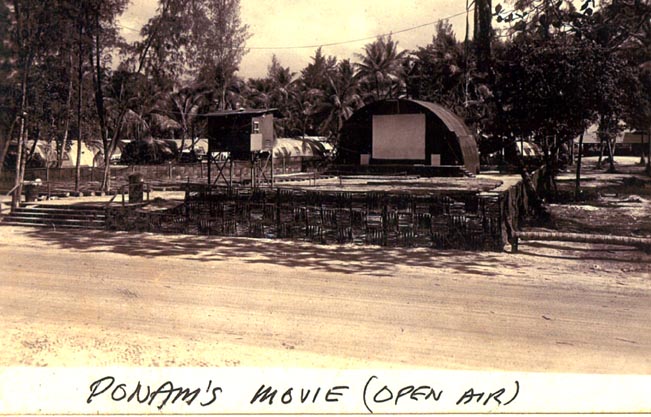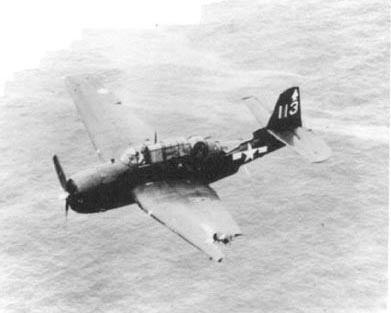 A good reason why TBM pilots like the "Turkey". This one flew back to the USS Bennington after another TBM fell on it. Left wing tip gone and heavy damage behind the turret. The pilot made a successful water landing next to the ship.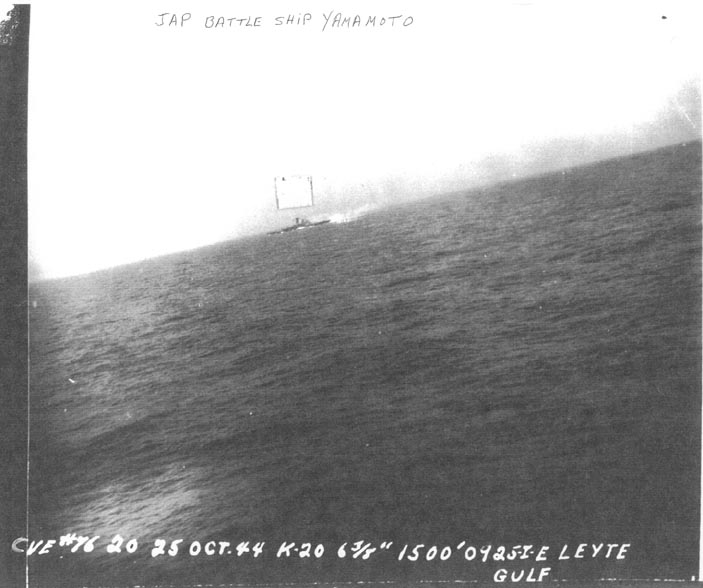 The Yamato under attack. Photo taken by VC-20 possibly by Steve Walker, ARM with LCDR Dale.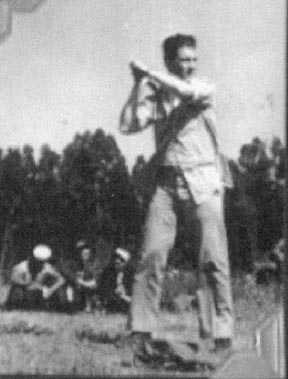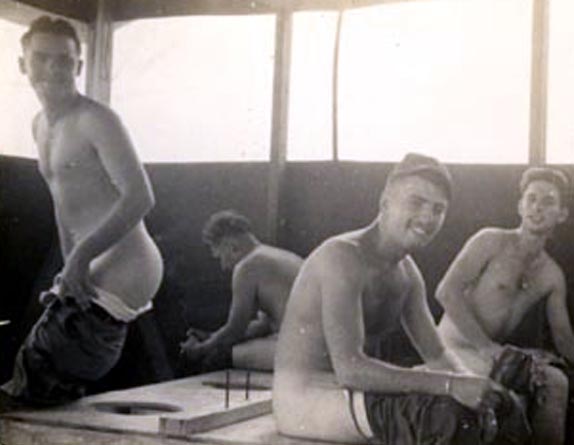 Charlie 9  "Ruth-Less"

  Ens J W Eash' plane

Photos are from Gene Lamond, Ed Henderson, Doy Duncan, JED Durand, Charles Roth, National Archives, Ed Nelson, David Wright, Bill Campbell, Judy Zito , Dale Stewart, Mike McRoberts and other family members. If anyone would like to share photos, please contact me.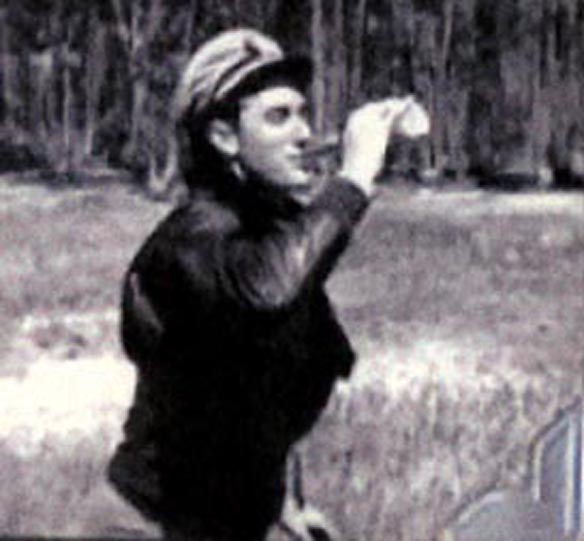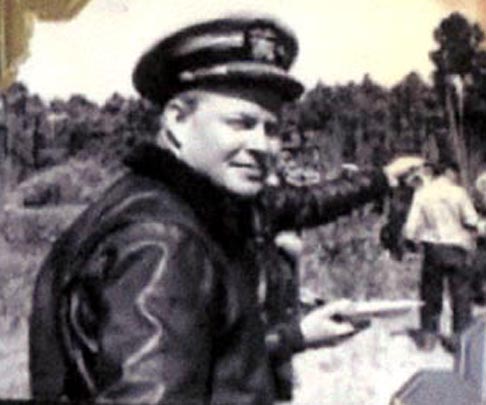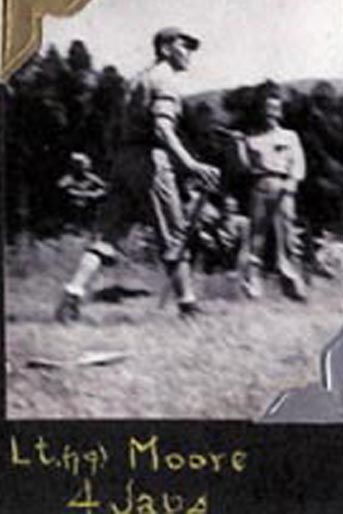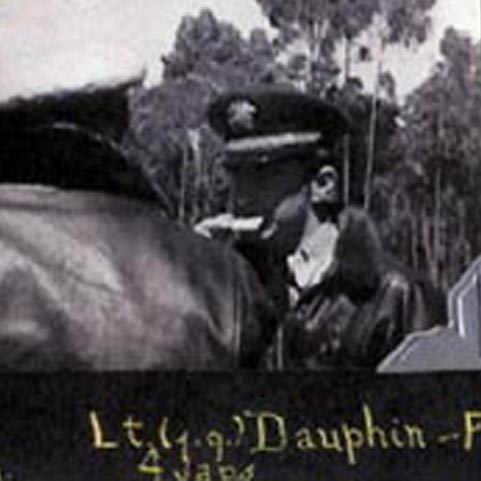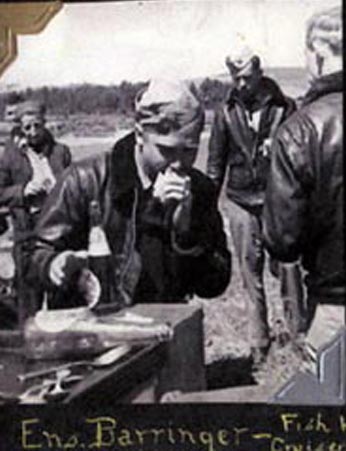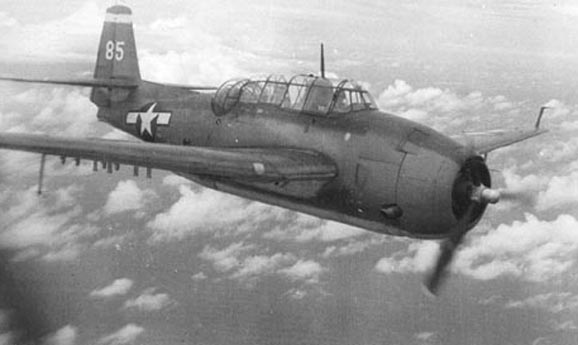 Charlie 85  Photo from National Archive. Pilot UNK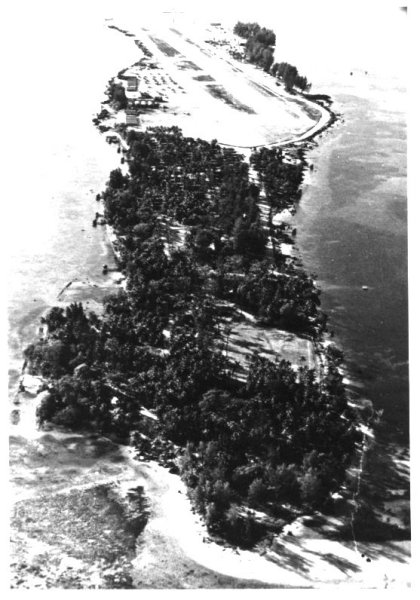 Ponam Island and air strip c1944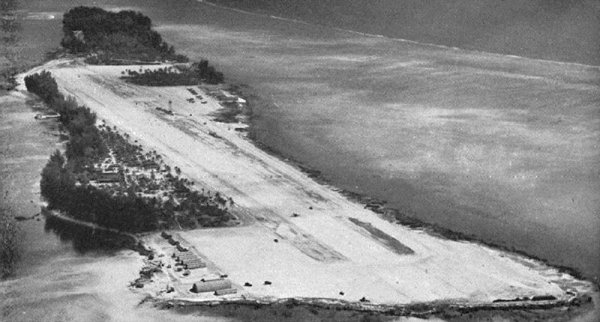 The airfield ran NW to SE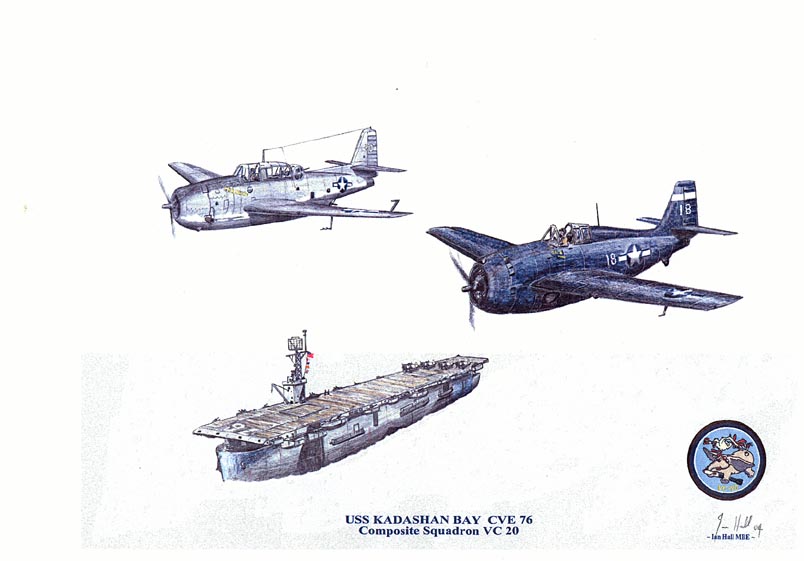 This page was last updated on: April 21, 2010
Altman was from New York and when he arrived to train with VC-20, it was learned he could fly but did not know how to drive. So a few of the pilots taught him how to drive a jeep on the base..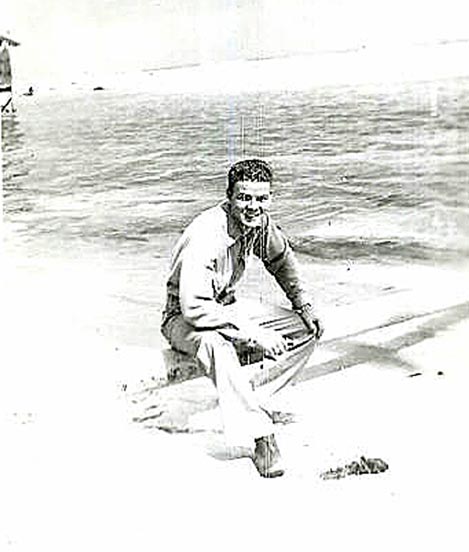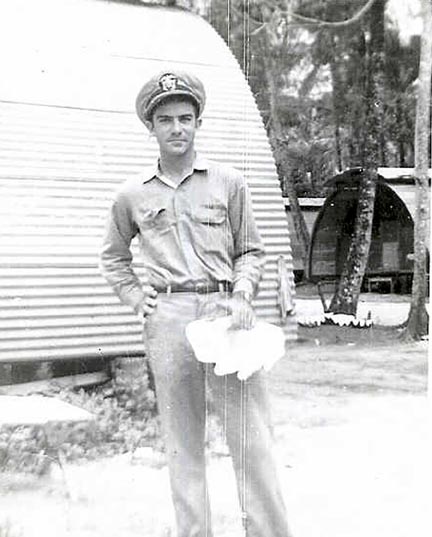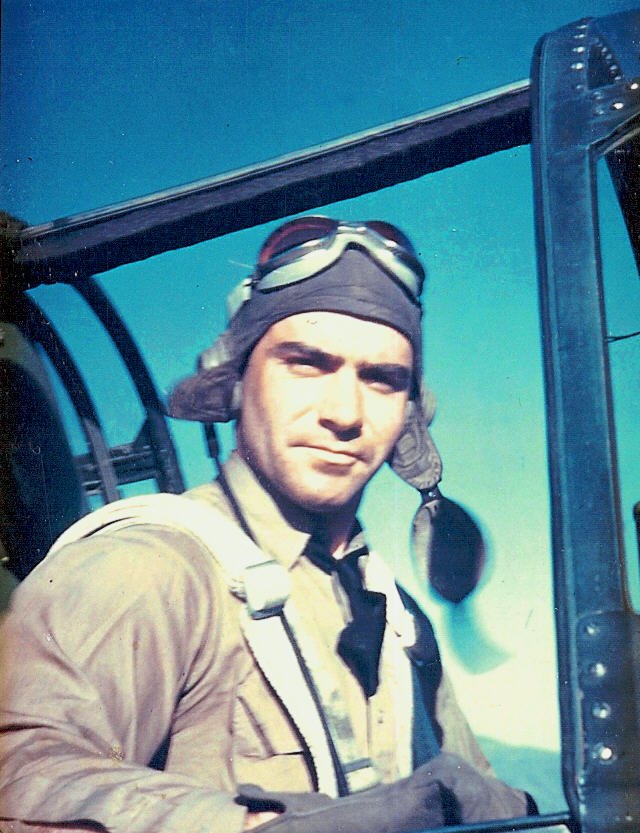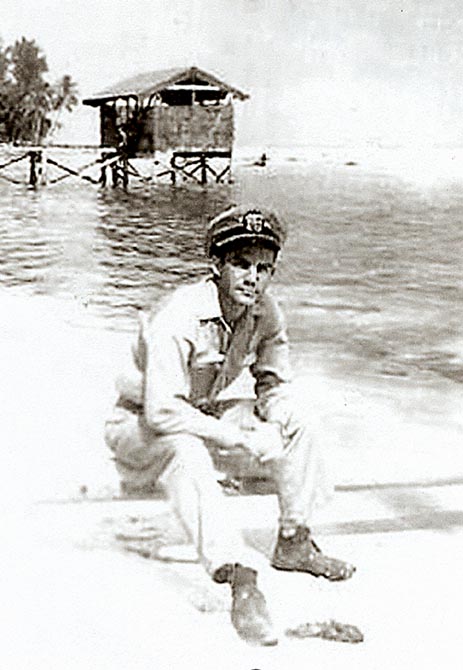 Don Rogers on Ponam c Nov. 1944

Don Rogers at Brown Field before VC 20 shipped out to the Pacific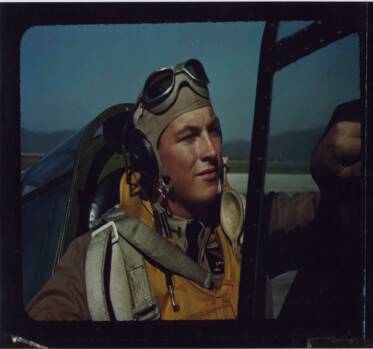 Bill Campbell.

According to Bill a Tom? Connley who was training with the squadron was resposible for the color photos. He was apparently connected to Walt Disney studios and was the one who acquired the squadron emblem. He was a fighter pilot but did not ship out with squadron when it left aboard the Kadashan Bay. If anyone knows what happen to him, please write.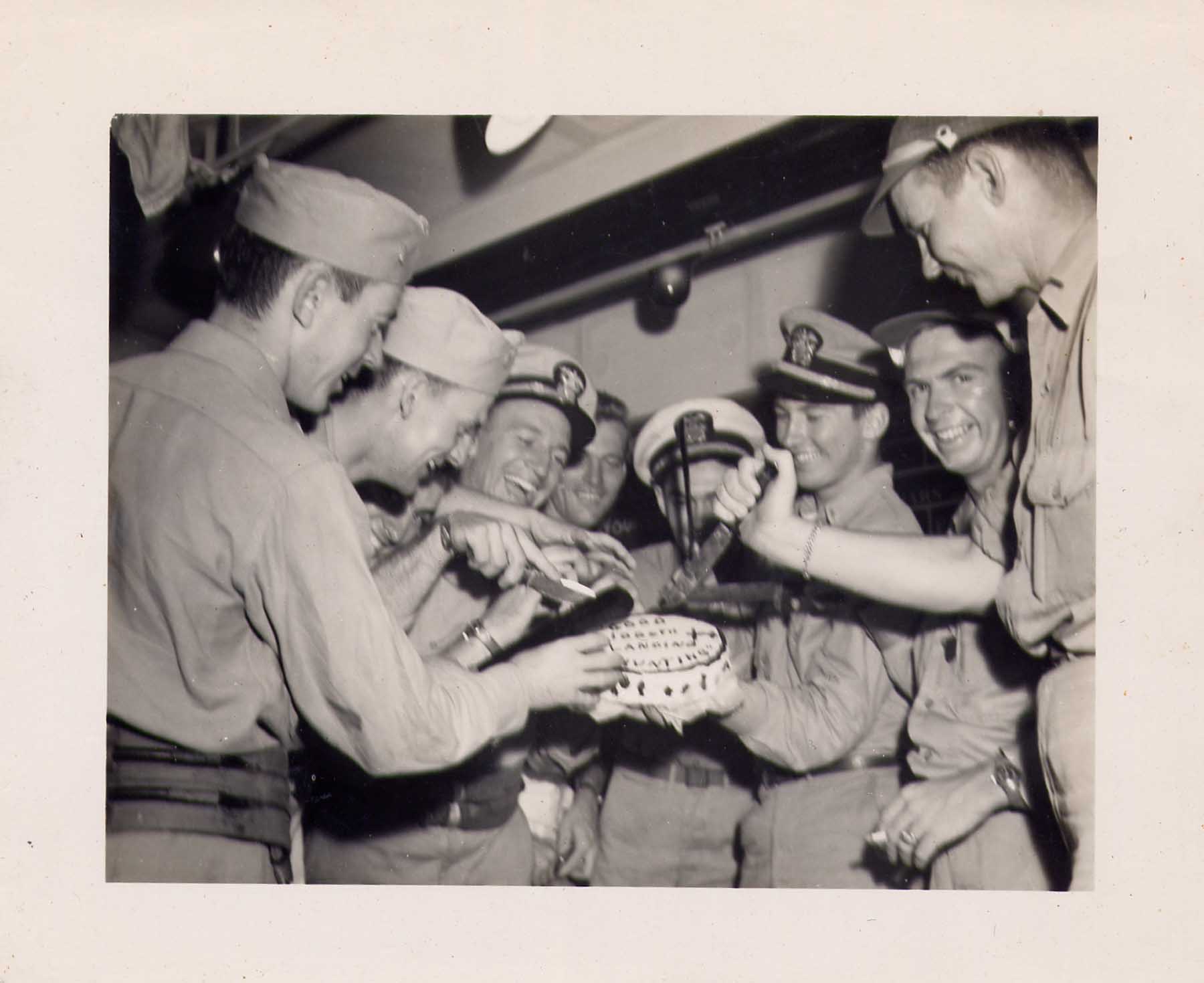 Campbell celebrates making the 1000th landing on the Katie B. Actually the honor should have gone to his division leader, Couthard, but he was waved off by the LSO and he was next in line.

L to R: Wimer, East, Gnuse, Couthard, ??, Campbell, Howe, Dye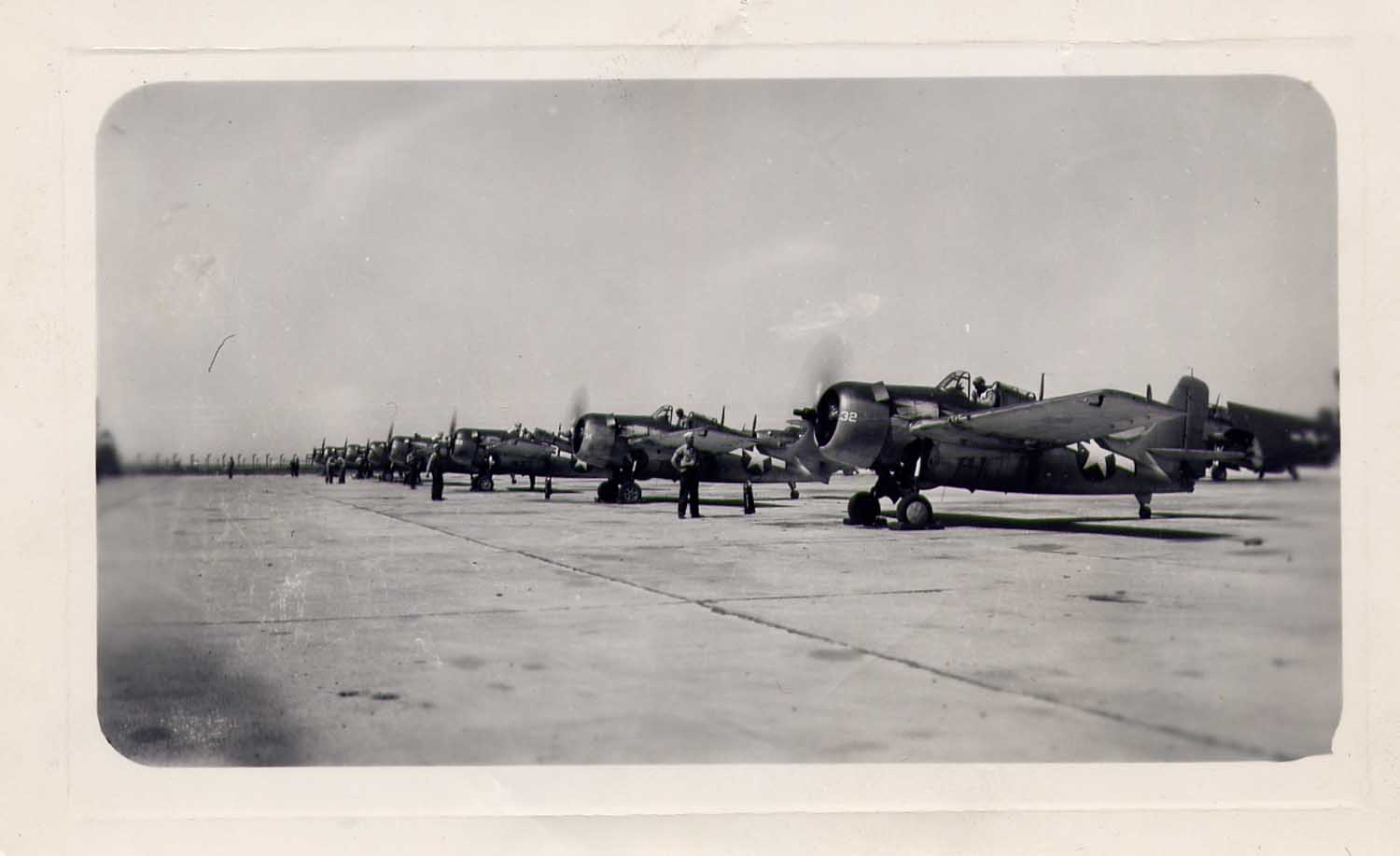 Wildcats lined up at Otay Mesa, Ca before leaving for CVE 76 Otay is also known as Brown's Field.

Tijuana Cowboys: Mike Roche, Doy Duncan, Bill Campbell and Otto Hamm

Photos from Bill Campbell

According to Bill, Mike had taken a liken to a lass and the locals were not too happy. They managed to pull Mike out to live to fight another day!!

Photos of Don are from his daughter

Judy Rogers Zito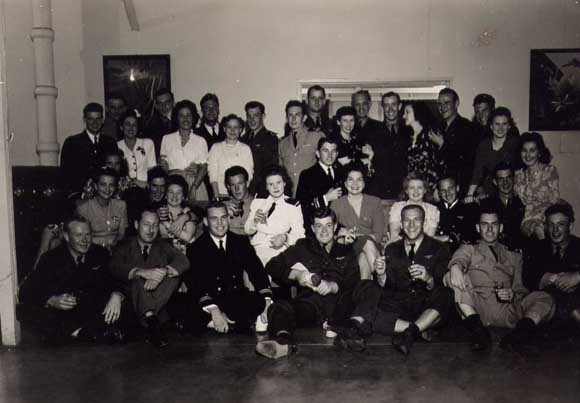 Front Row R to L (men only)Carr, Dyhoe, Craig, McKnight, Gnuse, Lazear, and Elshire

   2nd Row girl, Duncan, girl, Hamm, girl, Dauphin, girl, Baringer, Cole, girl

   Last row  Eash, Couthard, Tysdall,Couthrie(sp?), Adair, Jankowski, McRoberts, Roth, Campbell

   Next to last row Anderson , girl, girl, girl, Howe, girl, girl.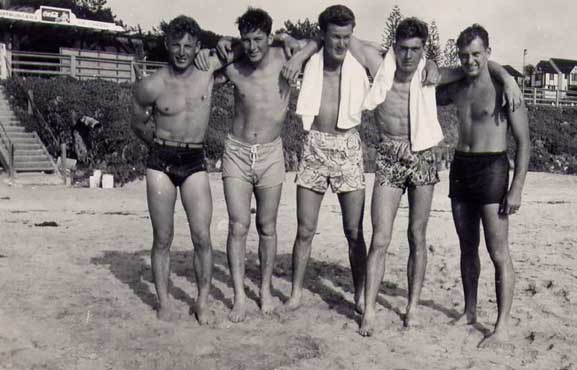 Bob Elshire, Bill Campbell, Otto Hamm, Bob Cole, Les Little.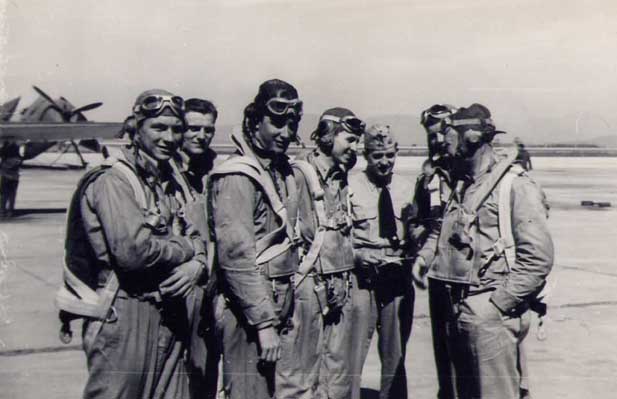 Eash, Duncan, Dauphin, Little, McKnight, Campbell and Carr (who is doing the talking). Carr "headed up" the fighter pilots.                                    Brown Field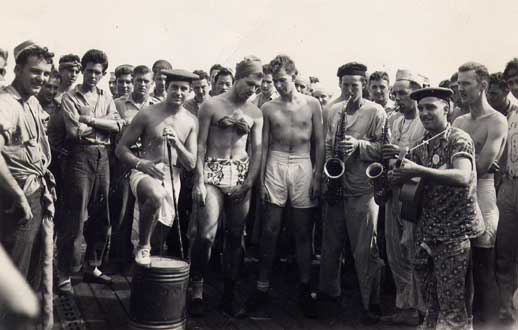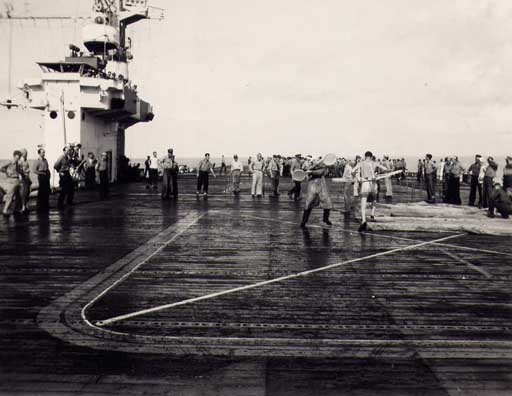 Learning how to land  Equator Crossing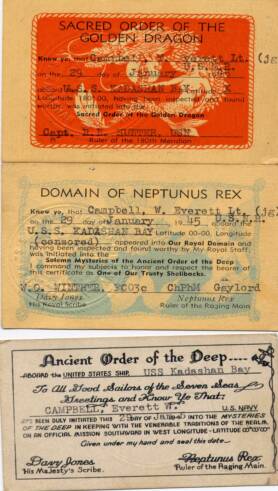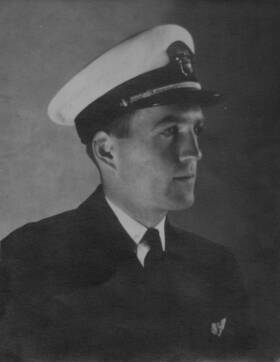 Cadet John Dale, San Diego 1938

photo courtesy of Dale Stewart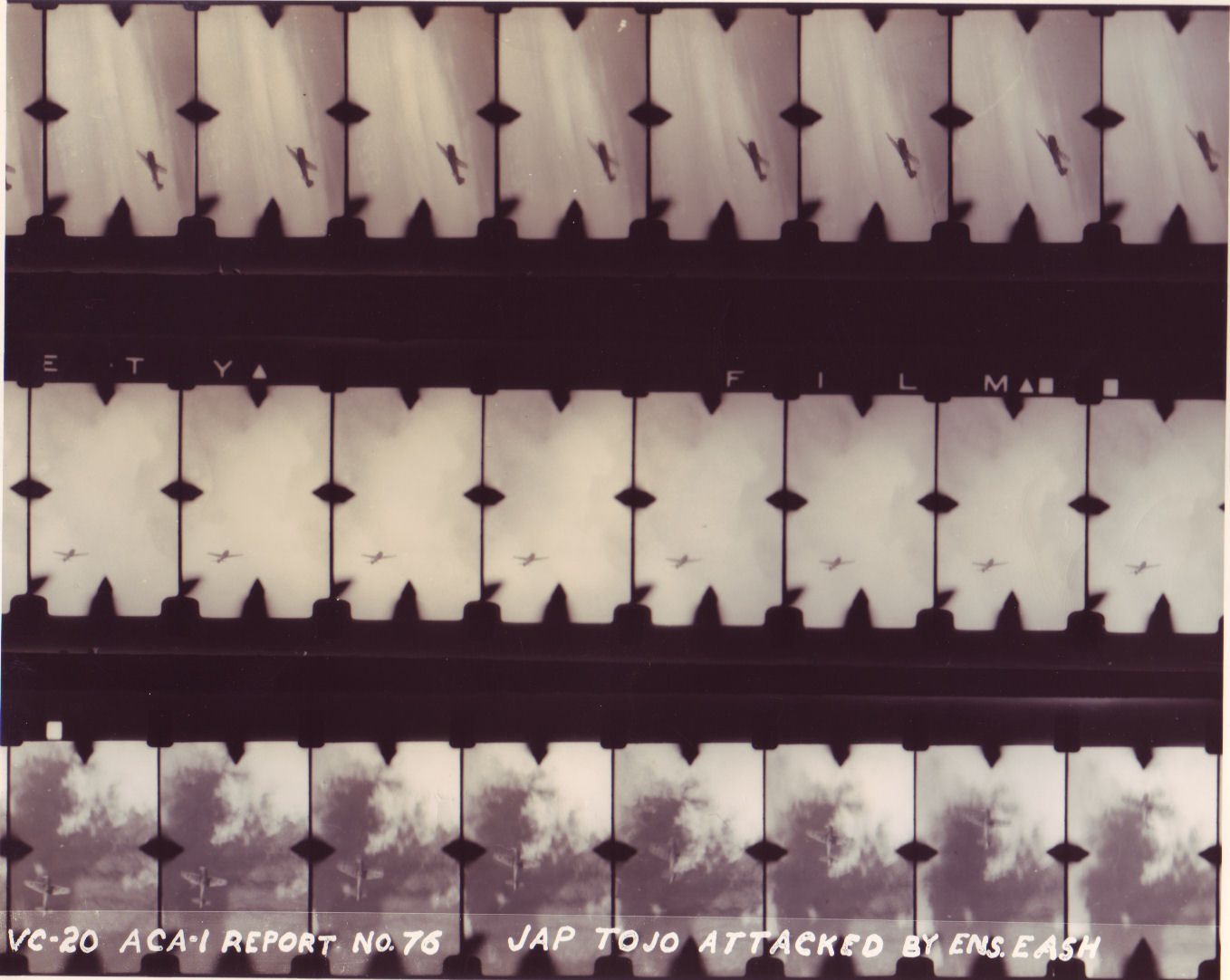 Artist rendering by Ian Hall of The Katie B with two of her planes coming home. Ian has prints for sale at $35 unsigned and $50 signed.  Email Ian @                   or his website @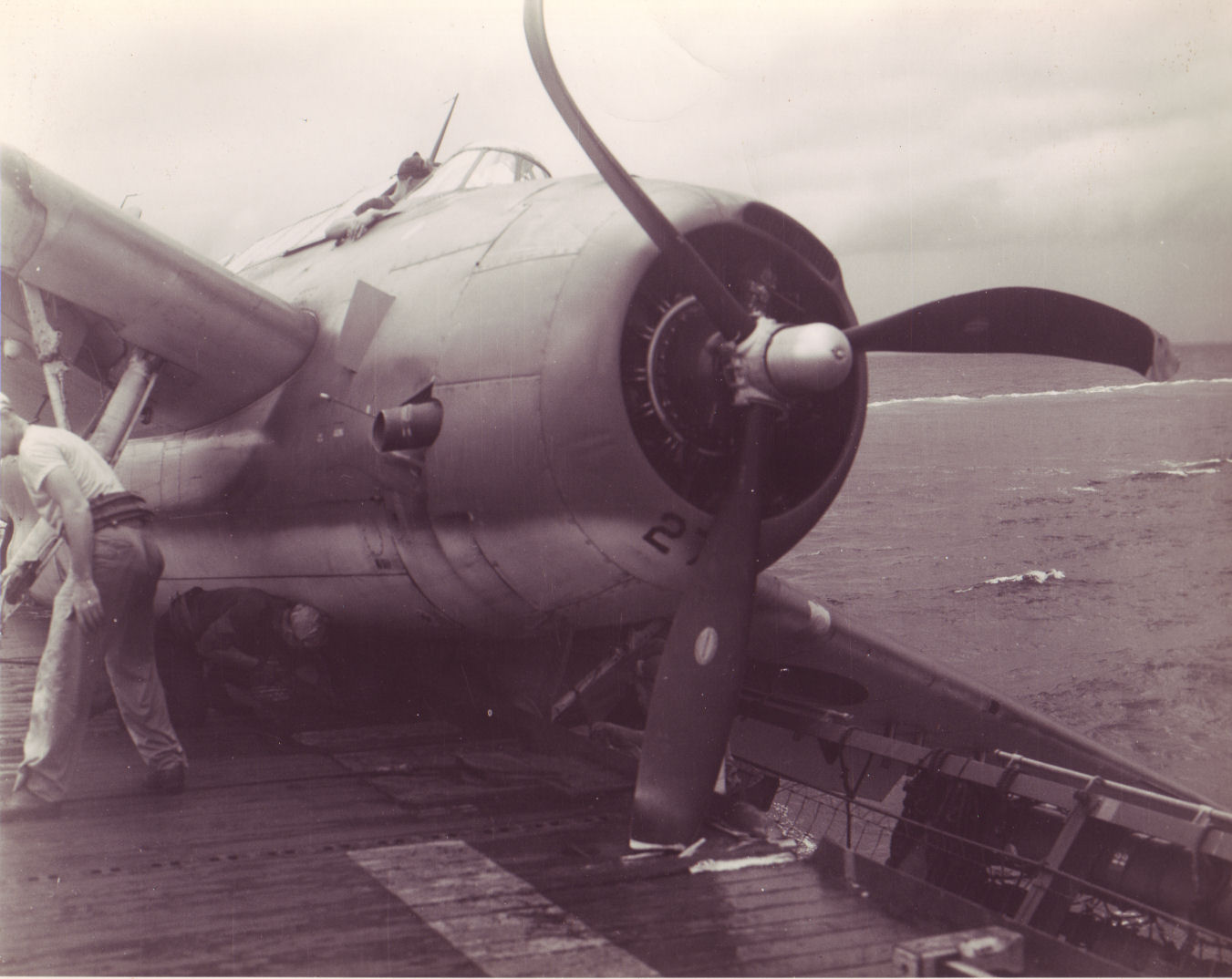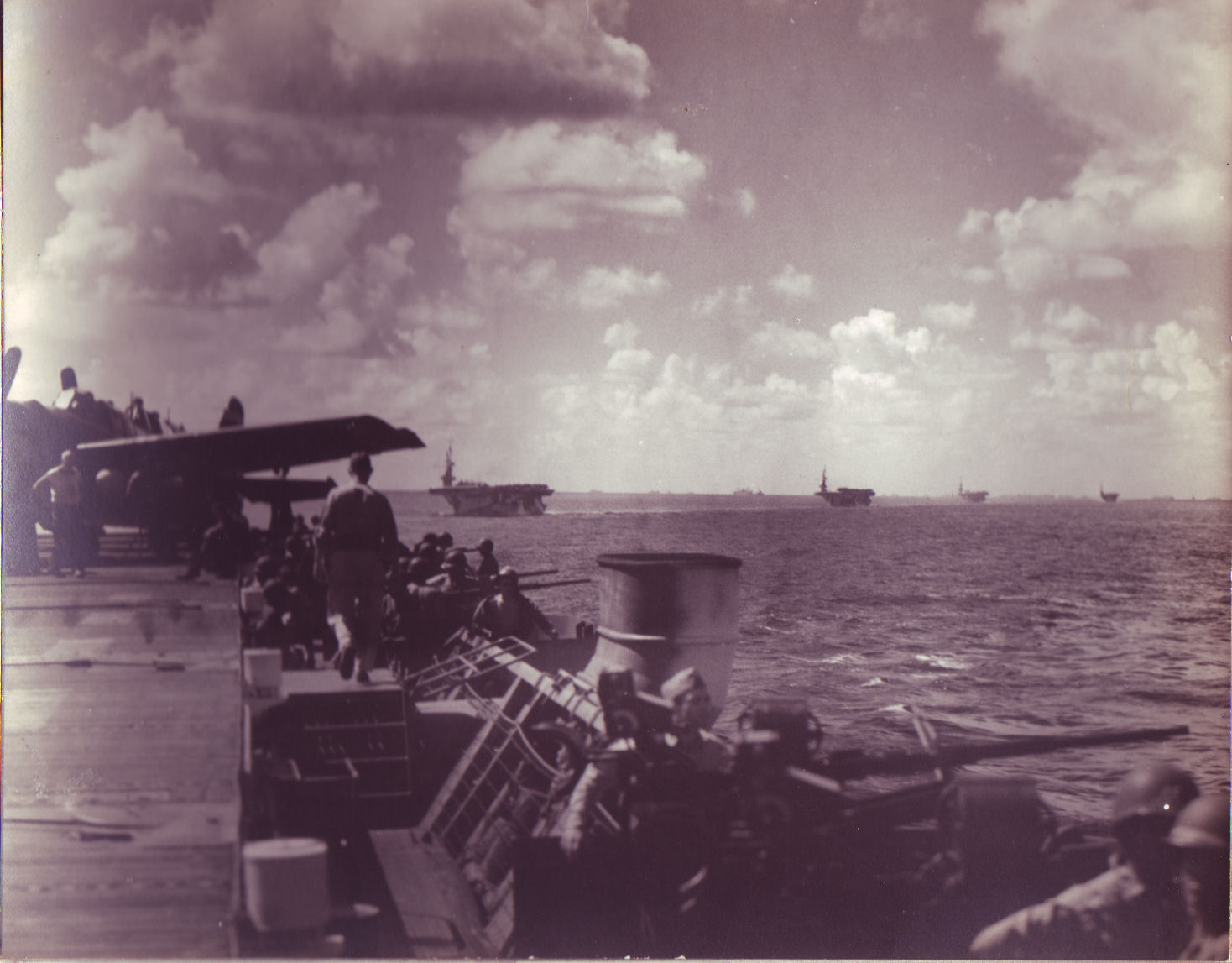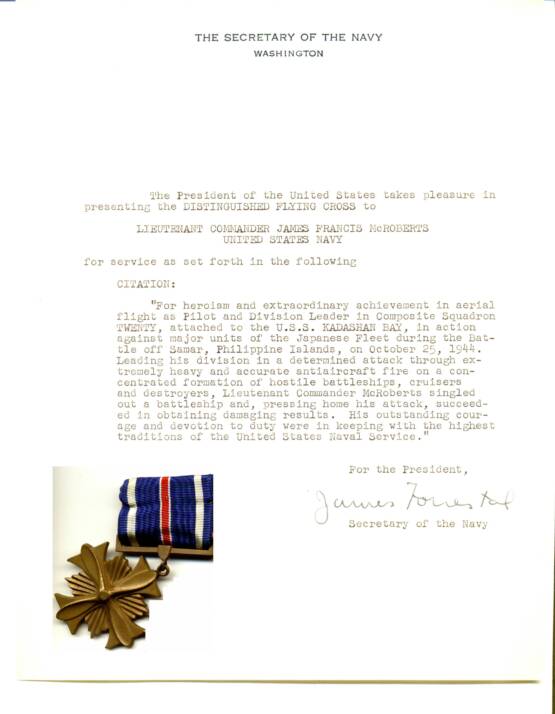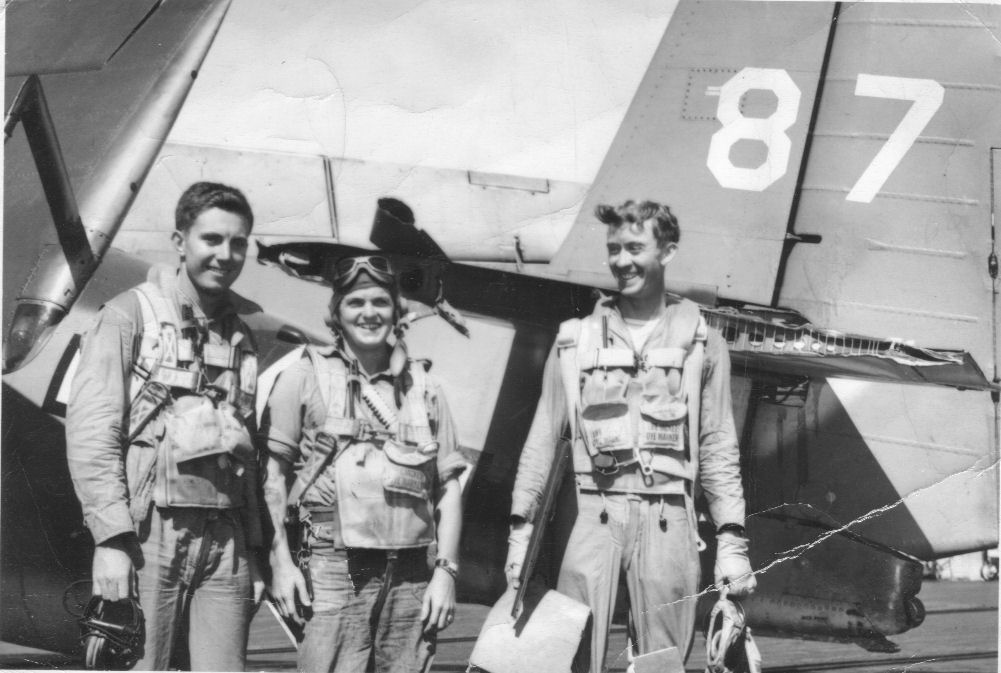 Lt McRoberts to the right with his aircrew on 25 OCT 1944

Lt McRoberts DFC Citation

Tafffy 2 heading out prior to 25 OCT 1944

Hard Landing for "Charlie" 27

Ens Eash's gun camera captures attack on ToJo