COMPOSITE SQUADRON TWENTY

aka

1943 VC-20 1945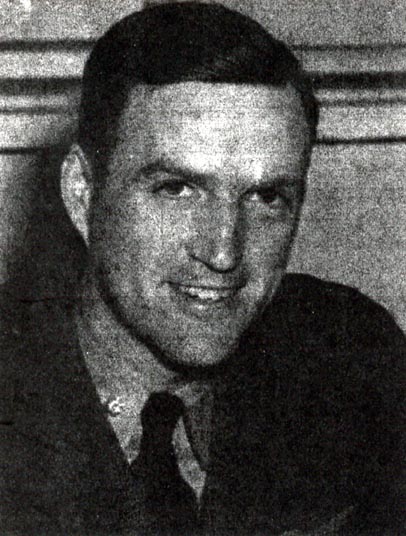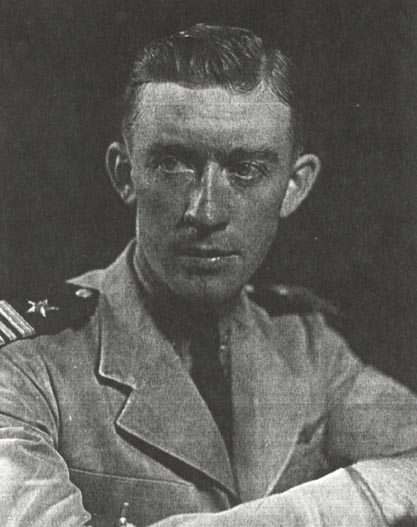 LCDR J R Dale

31oct 43--18 nov 44

1st C O

LT J F "Mac" McRoberts

18 nov 44--26 feb 45

2nd C O

Insignia designed by

Walt Disney Studios

The rooster represents the FM-2 Wildcat flying cover for the TBM1c Avenger (elephant) below

This site is being maintained by Bob Heflin. My dad, Pete Heflin, was a radio/gunner with VC-20. He flew with Ens. Don Rogers and topgunner, Ed Henderson. If you have any information, photos, or other items, please email me. This site is a work in progress. ANY suggestions would be appreciated. Thanks for stopping by.

There were three types of squadrons aboard U S aircraft carriers.  There were the VF squadrons made up of fighters, VT squadrons made up of  bombers and VC squadrons.  VC squadrons were composite squadrons made up of both fighters and bombers.  VC-20 consisted of 16 FM-2s (Wildcats) and 12 TBM-1Cs (Avengers).  Other VC squadrons were made up of F6Fs (Hellcats) and SBD and SB2C (Helldiver) dive bombers.  Some Marine VC units had the F4U (Corsair) fighter.

A brief chronology of VC-20.

1943

The unit was commissioned at NAS Seattle with three officers and ninety-six enlisted personnel on 24 Oct 43.  On 31 Oct 43, LCDR John R. Dale took command and commenced ground school until some FM-1s arrived 4 Nov 43. The squadron moved to NAS Pasco, WA for operational training on 25 Nov 43.

1944

On 2 Jan 44, the squadron left Pasco and set up training at NAS Holtville, CA. for night flying training. 5 Feb, they moved to NAS Brown Field, CA for more training and receipt of its FM-2s and TBM-1Cs.  Carrier qualifications aboard the USS Altamaha began on 8 Mar 44 with additional training at Inyokern, CA during March and April.  The squadron returned to Brown Field 14 Apr 44.  From 14 Apr to 19 June, the squadron continued to train with shore leave during May.  On 19 June, the squadron transferred to the USS Kadashan Bay CVE-76, their home for the next eight months.  After additional training, their embarked for Pearl Harbor on 10 Jul 44.  From 17 Jul to 11 Aug, their life was one of more training.  On 12 Aug, they departed Pearl for Tulagi Harbor, Solomon Islands as part of Task Unit 32.4.5  Third fleet.  ASP (anti-submarine patrol) and CAP (combat air patrol) was carried out during the trip.  They arrived on 25 Aug and immediately starting practicing for the landing operations of Peleliu Island, Palau.  The exercise took place at Cape Esperance, Guadalcanal with Task Unit 32.7.1.

On 6 Sept 44, the ship and squadron left Tulagi for Palau.  On 12 Sept, they commenced air attacks against the Japanese held island group and continued until 28 Sept when action ceased. 

2 Oct 44, the ship and squadron was reassigned to Task Unit 32.19.18 and departed for Seedler Harbour, Manus, Admiralty Islands.  On 14 Oct, they departed to pick up a convoy and escort it to Leyte Gulf, Philippine Islands as part of the Leyte Gulf landings on 20 Oct.   The next day, they joined Task Unit 77.4.2 (Taffy Two) and provided close support for the Army Forces on Leyte until 25 Oct. when Ens. Hans Jensen from VC-20 spotted the Japanese Central Force which had slipped through and started the Battle of Leyte Gulf aka The Second Battle of the Philippine Sea.  28 Oct departed Leyte for R and R at Ponam Is. in the Admiralty's. arriving 3 Nov.

18 Nov. LT James F. McRoberts of Hobart, Ind, took command of COMPRON TWENTY, in accordance with BuPers dispatch 141640 of Nov 1944.  On 27 Nov, the squadron flew back to the the Kadashan Bay as part of T.U. 77.4.7 enroute to Kosal Passage.  Arrived 30 Nov and sortied for Leyte Gulf until they departed for Seedler Harbor, arriving 23 Dec.  On 29 Dec, they departed for the invasion of Luzon, Philippine Is. with escort duty for Task Group 78.1 on 31 Dec 44.

1945

Entered Leyte Gulf on 4 Jan and the South China Sea on 7 Jan.  A kamikaze struck the ship on 8 Jan.  The ship remained operational and moved all but two VT and five VF to other CVE's.  She remained in the area until 10 Jan and retired to Leyte Gulf and eventually Seedler Harbor for temporary repairs.  She left Manus for Pearl Harbor on 27 Jan and anchored at Ford Is. 6 Feb. 1945.

The ship and squadron arrived at NAS Alameda, CA 13 Feb for rehabilitation.

The squadron was reformed on 24 Mar 45 and Lt. John C Coulthard of Burlingame, CA was assigned as the new CO  on 5 Apr 45.  The reformed unit trained for combat duty as a streamlined VC squadron at NAS King City, CA. Training was continued from 10 Apr to 9 Aug, when they sailed for Pearl Harbor. They arrived 15 Aug 45.  As the war had ended, they returned to the states for decommissioning on 29 Sept 45.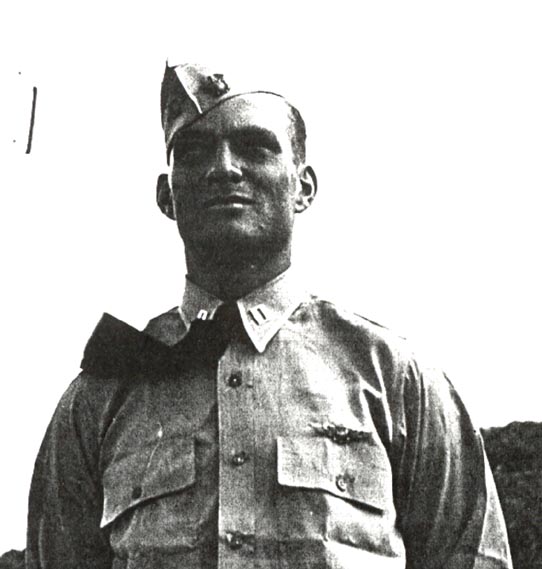 Lt. John C Coulthard

5 apr 45--29sept 45

        3rd C O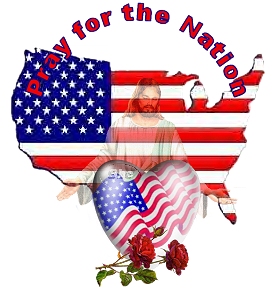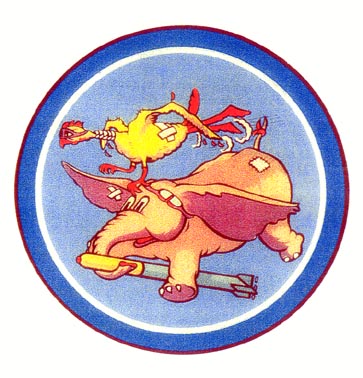 Welcome to the Home Page of

This page was last updated on: April 20, 2010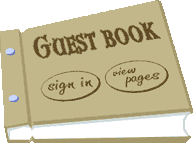 Please sign the Guest Book, Thanks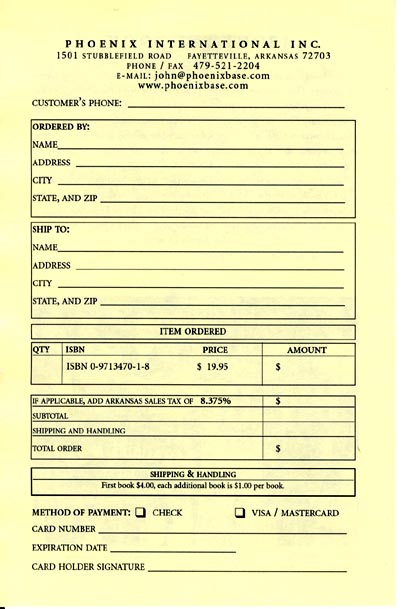 Doy Duncan has written a book about his experiences with VC-20 and being shot down during the Battle of Leyte Gulf and spending a month in hiding before his rescue.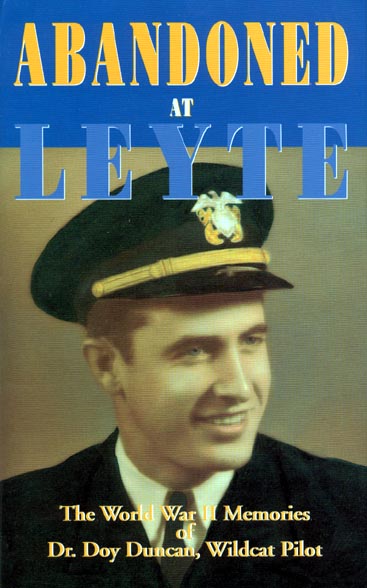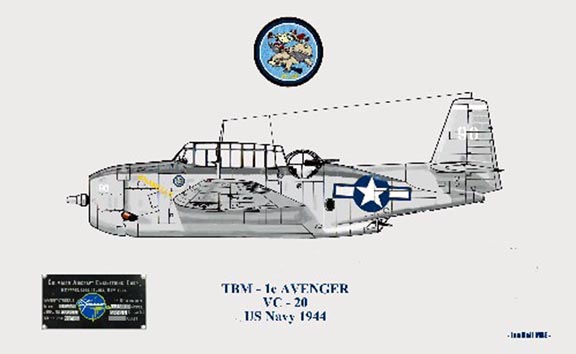 Ian Hall is an artist in CA who specializes in WWII art. I asked him if he would do a drawing of the Katie B. The print is 11x17 and can be purchased signed and number for $50 and unsigned for $35. I have attached information from Ian below.  He also produced this rendering of the TBM1c used in the squadron. Also, both prints, plus hundreds of others, are found on  EBAY

I have asked Ian to produce a print for VC-20 with a Wildcat flying cover for the TBM.  He hopes to start on it in Sept.

Shipping and Handling is $3.00 by US First Class Mail , $5.50 by Priority Mail or $20.00 by Express Mail.   

The following customizing options are available and are described and illustrated in more detail on my web site at

http://hometown.aol.com/woodblox/myhomepage/index.htm

1.  Signed by the artist and numbered next in sequence of only 100 signed prints.    $50.00

2. Addition of personal details (e.g. Rank, Name & service dates or a dedication to a family member or shipmate)    $6.00

3. Print on  glossy photo paper instead of matt Bristol vellum.  $3.00

4. Larger print on 19 x 11 glossy paper  (Image size 17 x 6.5)         $5.00

5. Addition of President Kennedy quote ending "I served in the U S Navy" $3.00

Ian Hall

1255 Tunitas Creek Rd.                          

Woodside CA 94062                           Transportraits@aol.com.                                         

650-851-3202                                                                                         

I also accept  Paypal . The Paypal address  is Transportraits@aol.com. 

Regards,

Ian

Charlie 90 "Chenelle" flown by Ens. Don Rogers